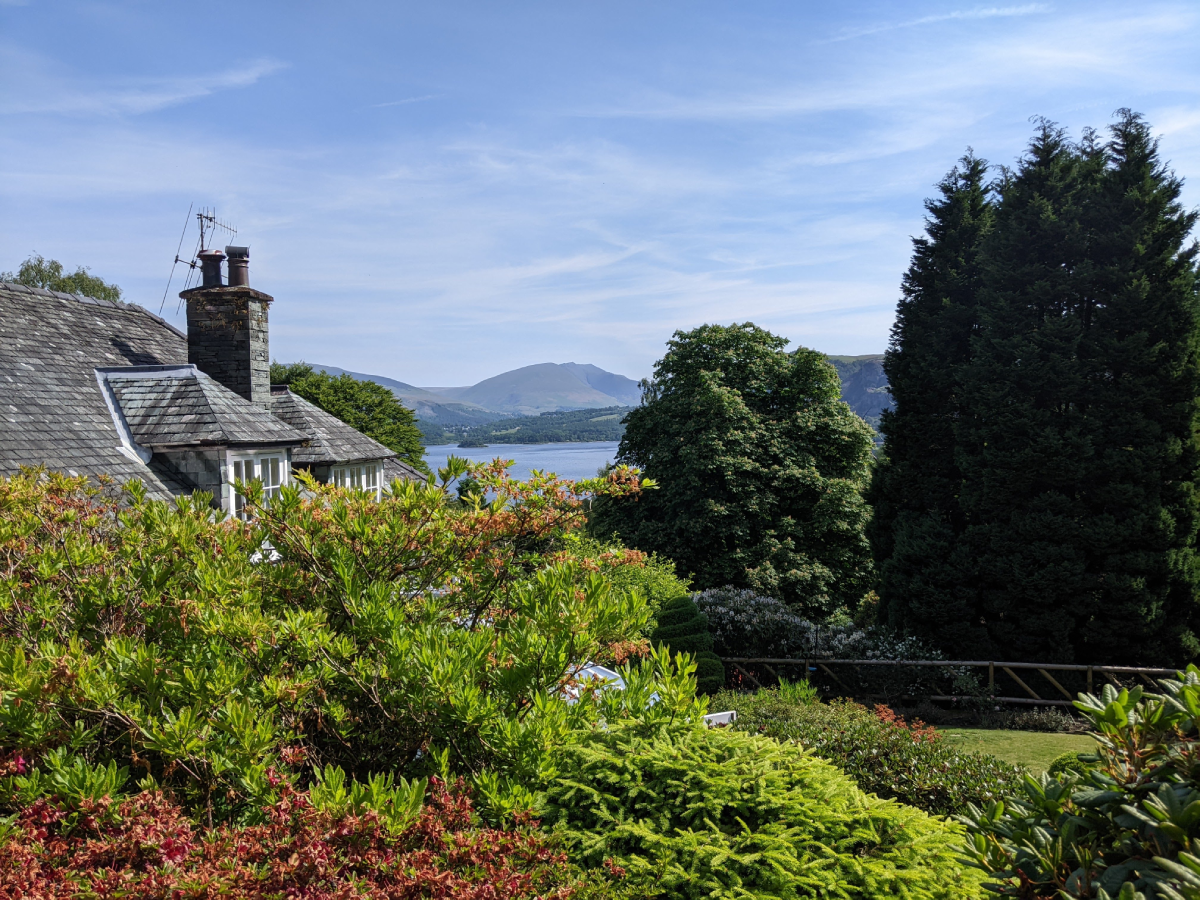 Recently I've taken some time out now I live in Cumbria to make pilgrimages to the key places where Hugh Walpole spent his time in the county. The most important and special place of course is Brackenburn, Hugh's 'little piece of heaven on Catbells' – the place he called home where he lived and wrote from 1924 until his death in 1941. I've written before about Brackenburn in my post on Hugh's 'Domestic Dwellings and Literary Lodgings' but Brackenburn was a place he truly called home.
After sending a letter to the present owners of the property, I was excited to receive an invitation to visit the house and gardens, and on a sunny June morning I set out with my wife Katy to Manesty Park for the trip. One of the things we have learned from driving around Derwentwater previously is that if you want to travel to Manesty or anywhere on the opposite side of the lake to Keswick, the roads are a little less scary (and have a wider berth with less overhanging cliff edge drops) if you go round the lake past Lodore falls and turn into the village of Grange to approach Manesty rather than approach Manesty from the Portinscale road. You'll also pass Copperfield, a lovely little cottage in Grange where Hugh's housekeeper used to live.
We've passed Brackenburn many a time and admired the fine house and gardens from afar, though today we were able to follow in Hugh's footsteps on the lawns where he entertained many early literary greats at his cumbrian retreat. The owners Mark and Julie gave us a warm welcome and their dog Skip, a beautiful wide eyed springer spaniel had a joyful bounce in her step!
I was curious to know if there were still artefacts in the gardens from Hugh Walpole's time living there and indeed there were. One of the images that appeared on a local Keswick postcard in the 1920s/30s was of Hugh Walpole standing next to a stone birdbath with his dog bingo. After nearly 100 years and in a different spot of the garden it was still there, with the stone bird still intact too. It was weathered by the Cumbrian weather over the years though looked like it still offered the birds the same hospitality as it did before.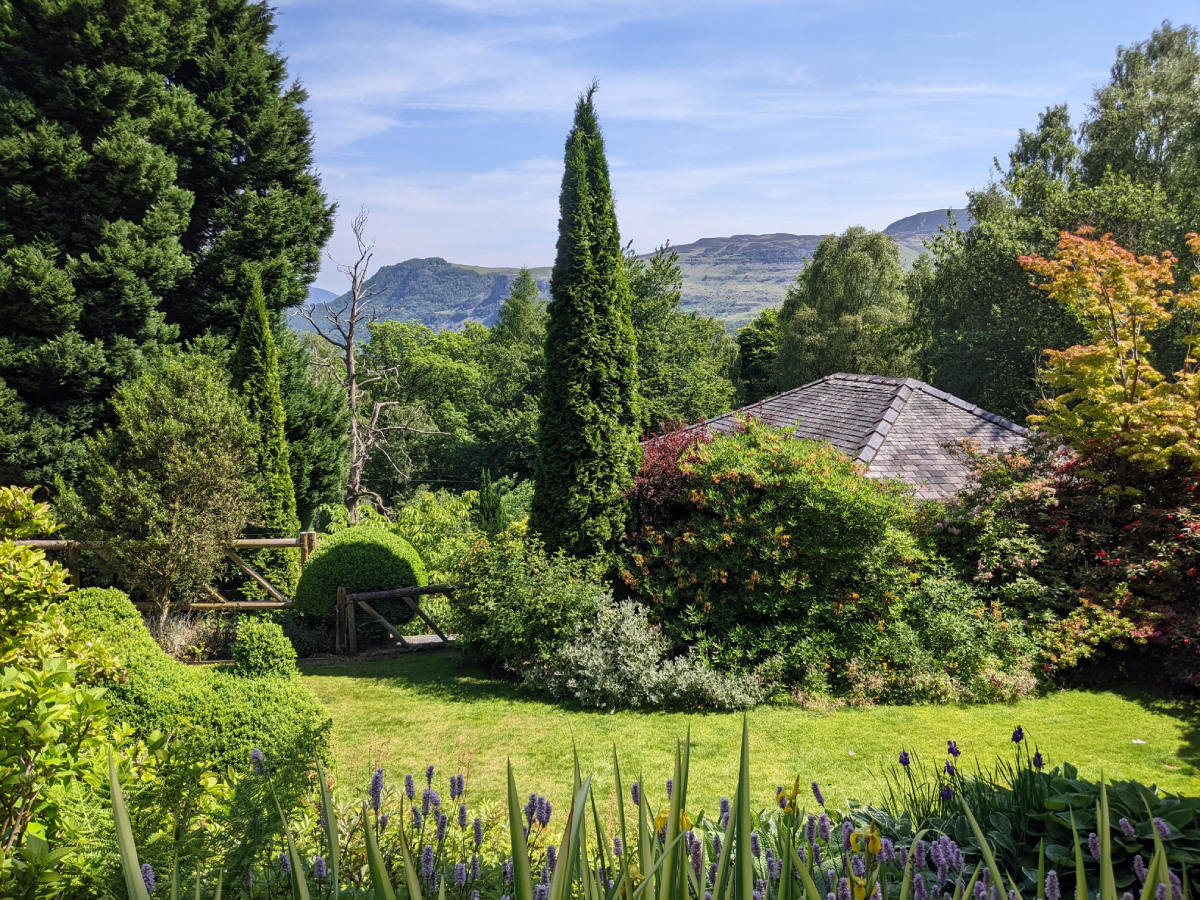 The gardens are beautifully kept and in mid June many of the flowers were in full bloom but most of all you could feel yourself encased in the greenery of nature with the foliage of many shrubs and trees hugging the boundaries of the beds, borders and lawns. Alongside the birdbath there are many classical ornamental garden and water features that are still present from Hugh Walpole's time there as well as a very 1920s/30s stylised stone bust of a male figure holding his head and looking to the heavens for salvation.
He's been lovingly known as 'Frustrated Fred' by the owners that have lived there past and present and I can sense the mood of Hugh Walpole in that figure – I think it really does represent the very feelings that drove him to be so prolific and become so successful. 
Many of these ornamental features had been pulled out of the undergrowth by the previous owners the Ellwoods when they lived there, Christine Ellwood particularly had put in a huge amount of work into redesigning the gardens as documented in Tim Longvilles book "Gardens Of The Lake District".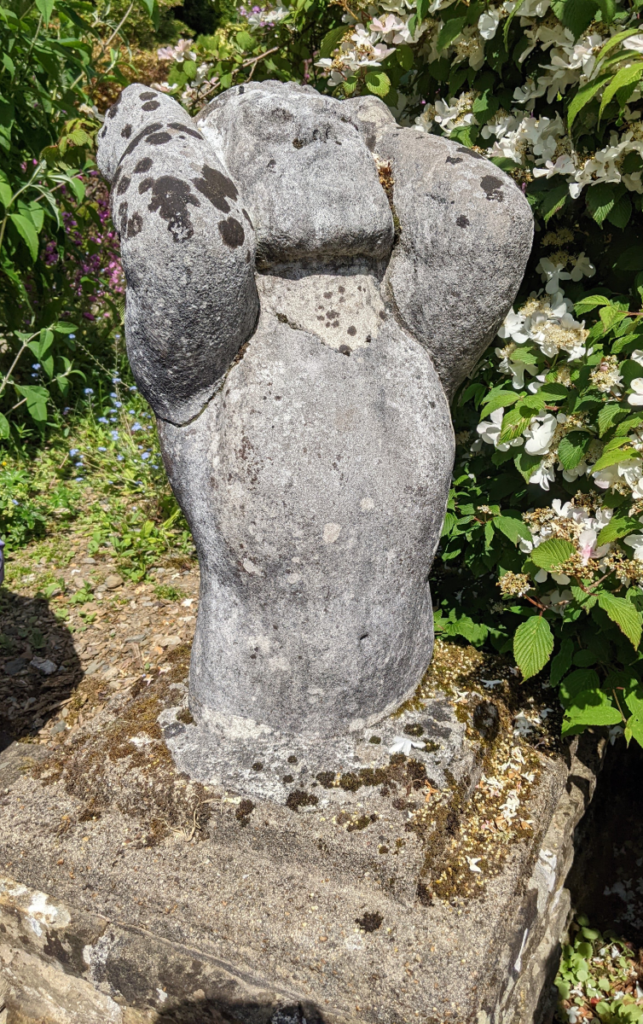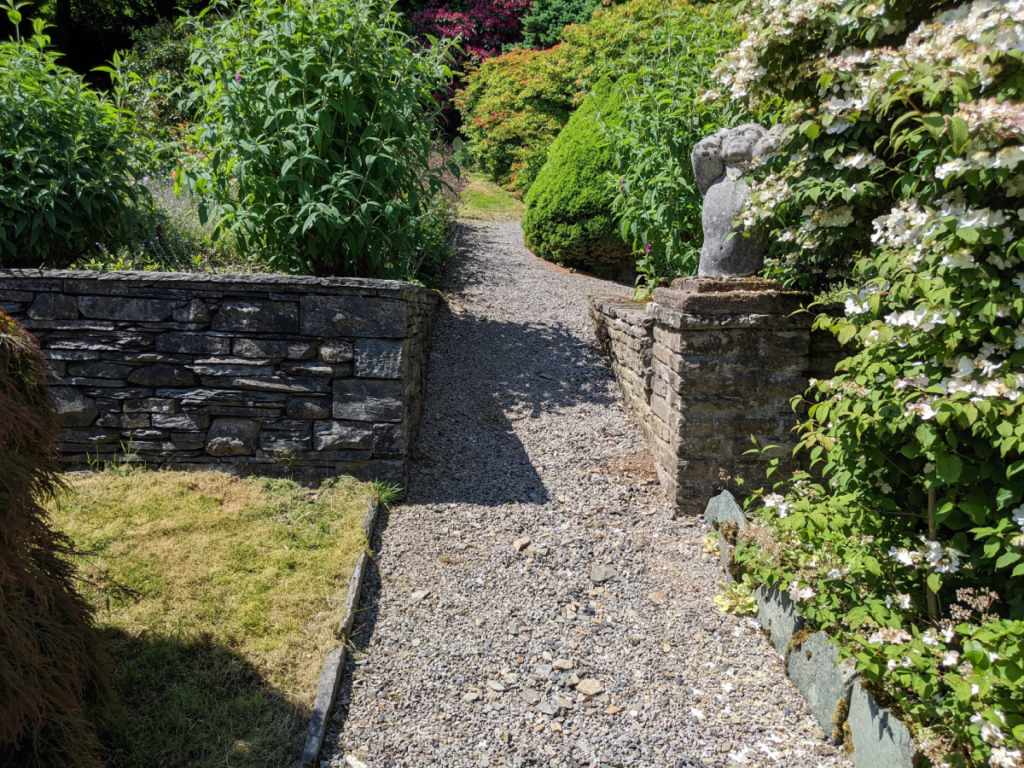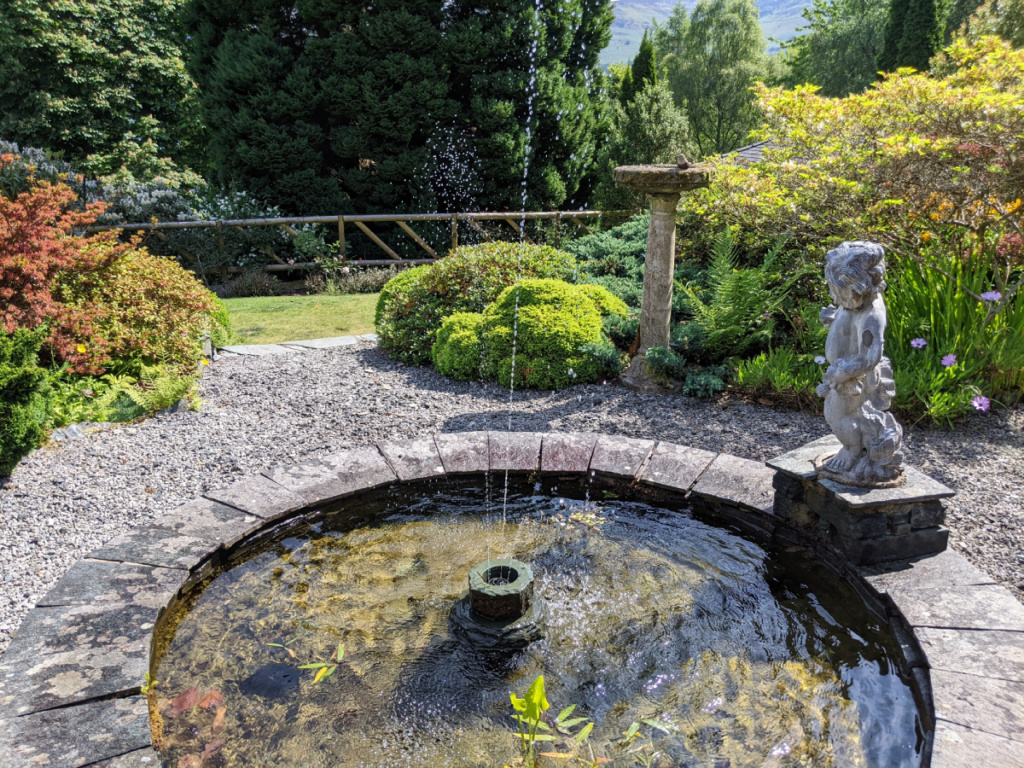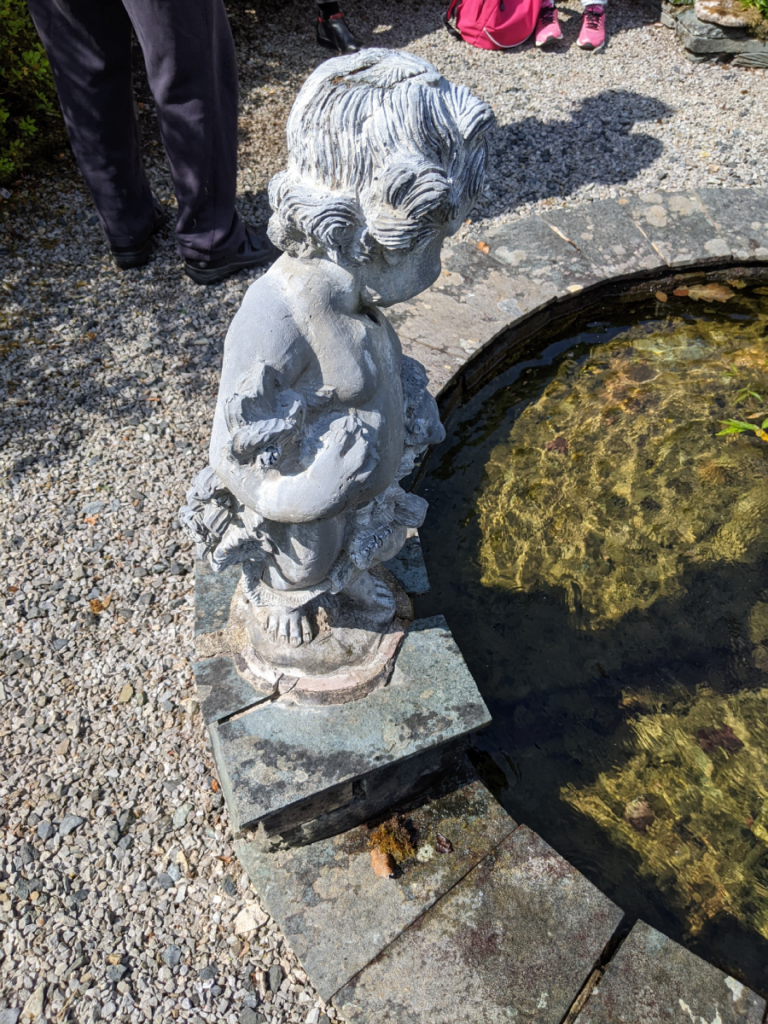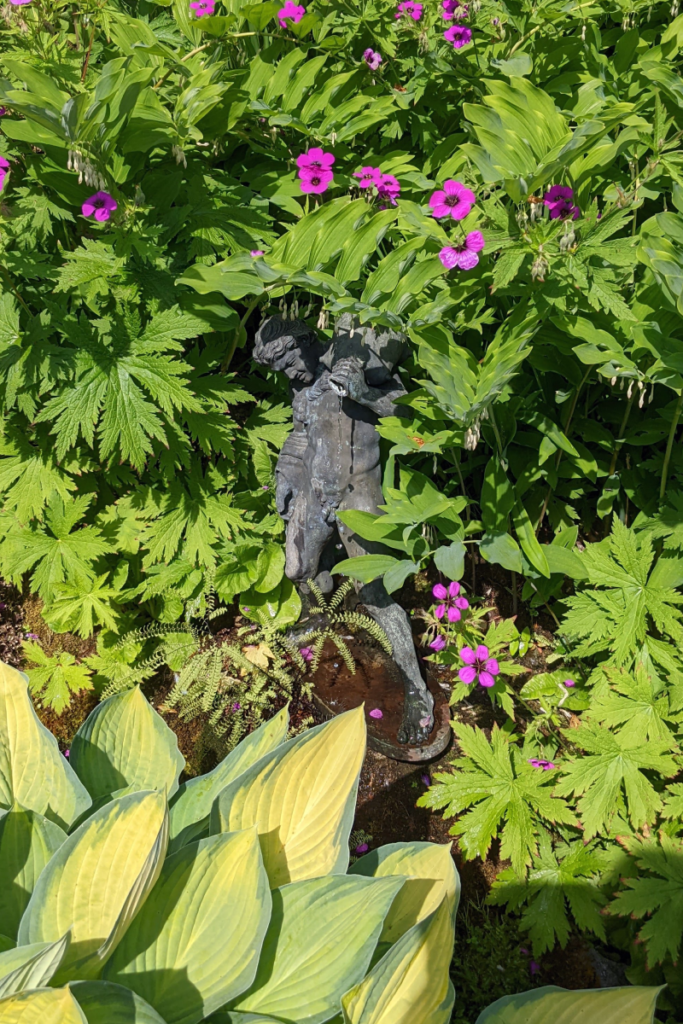 After a lovely tour of the garden made even more lovely by the exuberantly joyful bounding energy of Skip, we were invited inside the house for some refreshments and to take a look at incredible views from the front windows of the house over Derwentwater. With views like this over Derwentwater, you can see why Hugh Walpole called it 'his little heaven on Catbells' – and I'm sure every subsequent owner has felt the same. Clearly this is Skips window – she insisted on showing us her best side for the photo, what a privilege to have her in the picture!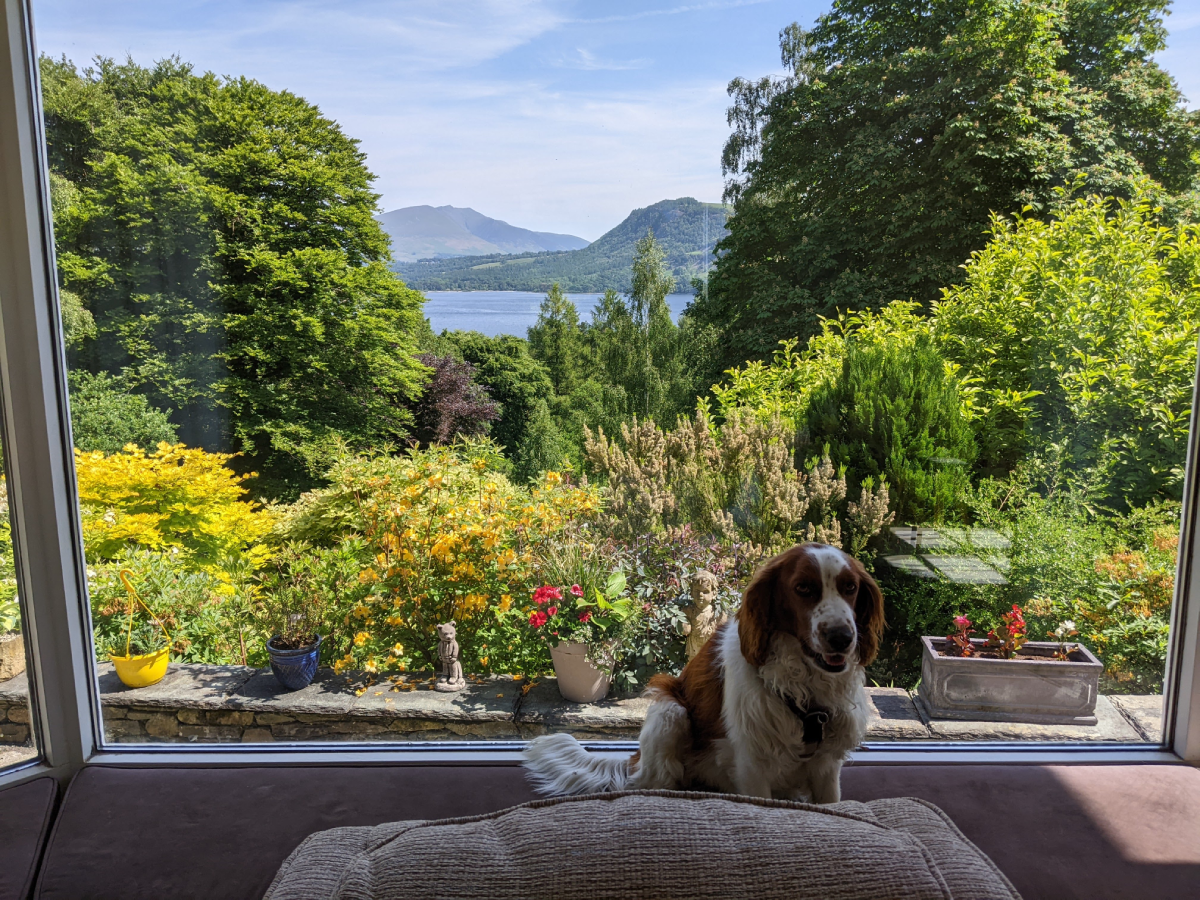 Brackenburn although being a historic house is a private residence and is not open to the public. I hope that the privilege of being invited and publishing this little write up and pictures of our trip gives an insight into the peace and tranquility that Hugh Walpole, the Cheevers, Hugh's sister Dorothy and brother Robin, the many literary visitors and the houses's owners past and present have enjoyed.
I'd like to thank Mark and Julie for their welcoming hospitality and for spending time with us on the visit, and send a big tummy rub and head scratch to Skip, the dog with the spirit of an angel in her eyes.