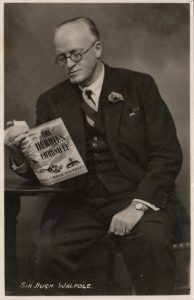 Sir Hugh Seymour Walpole, CBE (13 March 1884 – 1 June 1941) was a New Zealand-born English novelist. A prolific writer, he published thirty-six novels, five volumes of short stories, two plays and three volumes of memoirs. His skill at scene-setting, his vivid plots, his high profile as a lecturer and his driving ambition brought him a large readership in the United Kingdom and North America. He was a best-selling author in the 1920s and 1930s, but his works have been neglected since his death.
Walpole was born in Auckland, New Zealand, the eldest of three children of the Rev George Walpole, Canon of St Mary's Cathedral, Auckland (later Bishop of Edinburgh from 1910 to 1929) and his wife, Mildred Helen née Barham (1854–1925). Walpole was educated at a series of boarding schools in England, principally at Truro School for two years, the King's School, Canterbury for two years and as a day boy for four years at Durham School, when his father was principal of Bede College at the university. Walpole's popular character Jeremy lived in the cathedral town of Polchester in Glebeshire, an amalgam of Truro and Durham, which featured in many of his later books. The dust-jacket of The Inquisitor (1935) depicted a street map of this imaginary town. Walpole's brief experience of teaching – at Epsom College – is reflected in his third novel Mr Perrin and Mr Traill.
Walpole attended Emmanuel College, Cambridge, Walpole's father hoped that his son would follow him into the clergy, but after working between 1906 and 1909 as a lay missioner at the Mersey Mission to Seamen in Liverpool, and as a teacher, Walpole took up writing as his career.
Walpole's first novel, The Wooden Horse (1909), received good reviews but barely repaid the cost of having it typed. His first commercial success was Mr. Perrin and Mr. Traill, published in 1911. The young Walpole cultivated relationships with successful senior writers, and received encouragement from A. C. Benson, Henry James, Joseph Conrad and Arnold Bennett.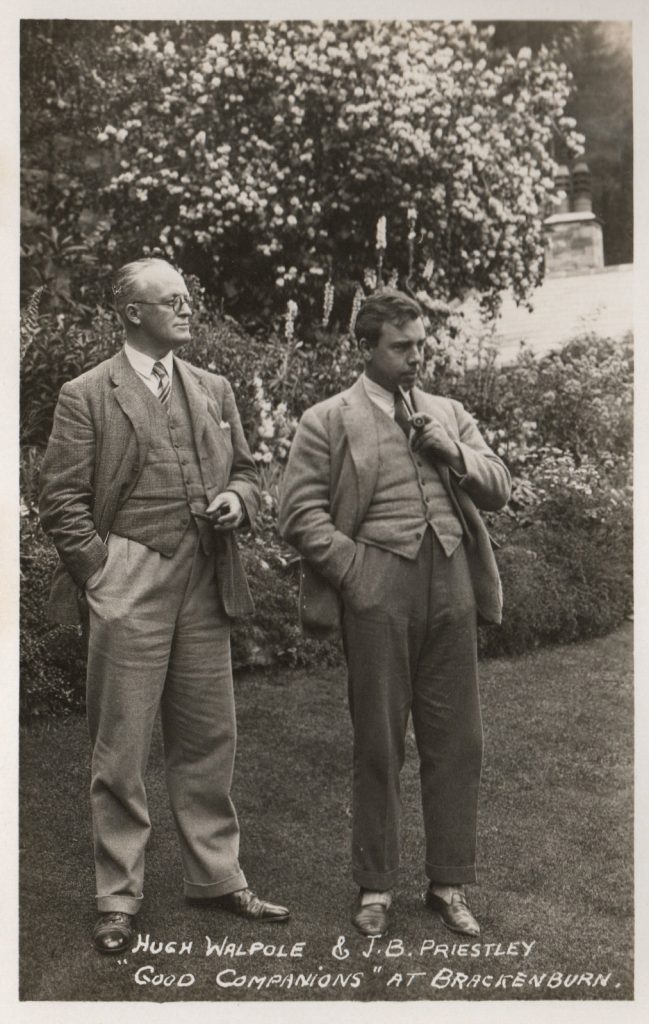 Ineligible for military service in World War I because of poor eyesight, Walpole worked in Russia, first for the Red Cross, winning the Cross of St George for rescuing a wounded soldier under fire, and later as head of the Anglo-Russian Propaganda Bureau during the Russian Revolution. He drew on this experience for The Dark Forest (1916) and The Secret City (1919). The latter was joint winner of the inaugural James Tait Black Memorial Prize.
After the war, Walpole resumed his prolific writing regime. His novels of the 1920s included The Cathedral (1922), a novel of ecclesiastical machinations; and Wintersmoon (1928), illustrating the clash between traditionalism and modernism: his own sympathies, though not spelled out, were clearly with the traditionalists.
In 1930 Walpole began his most popular series of novels with his historical romance Rogue Herries set in Cumberland in the mid-eighteenth century. This was followed by Judith Paris (1931), The Fortress (1932) and Vanessa (1933), which brought the saga up to the twentieth century. Walpole said of the Herries series, "It carries the English novel no whit further, but it sustains the traditions and has vitality".
In addition to writing, Walpole frequently lectured on literary subjects. He was a fluent speaker, much in demand, and commanded high fees both in Britain and in America.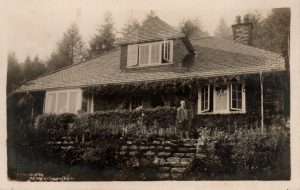 Walpole's commercial success enabled him to maintain an expensive lifestyle, with a flat in Piccadilly, London, and a large house, Brackenburn, on the slopes of Catbells overlooking Derwentwater in the Lake District. A discreet homosexual, Walpole spent much time and energy looking for "the ideal friend". From 1926 to his death, his chief companion was Harold Cheevers, a married former policeman, whose official role was Walpole's chauffeur. Other important figures in Walpole's life included Percy Anderson and Lauritz Melchior.
Walpole was a keen and discerning collector of art. He left fourteen works to the nation including paintings by Walter Sickert, Édouard Manet, Augustus John and Jean Renoir. Other artists represented in his collection were Jacob Epstein, Pablo Picasso, Paul Gauguin, Paul Cézanne and Maurice Utrillo.
State honours included the Russian Cross of St George for Walpole's gallantry in the Red Cross; the C.B.E. in 1918; and a knighthood in 1937. In his adopted home of Keswick, a section of the town museum was dedicated to Walpole's memory in 1949, with manuscripts, correspondence, paintings and sculpture from Brackenburn, donated by his sister and brother.
Walpole's health was undermined by diabetes, and he died of a heart attack at Brackenburn, aged 57. He is buried in St John's churchyard in Keswick.
Information supplied by Wikipedia and reproduced under the Creative Commons Attribution-ShareAlike License, images scanned from original photographic postcards owned by myself.