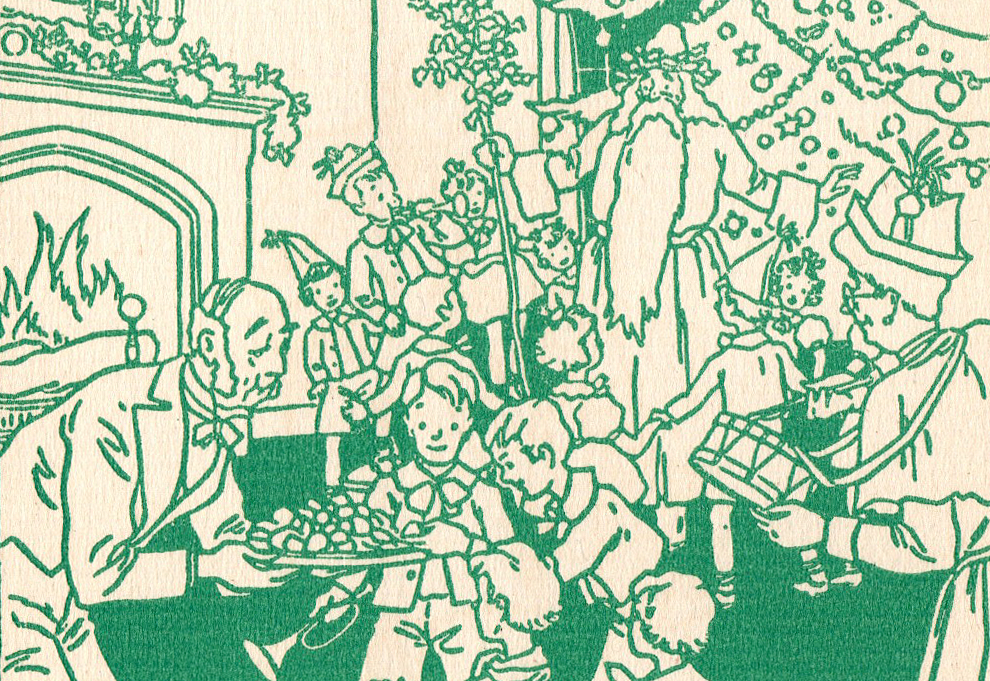 Upon the evening of Christmas Eve, when the earth was snow-lit, and the street-lamps sparkled with crystals, and the rime on the doorsteps crackled beneath one's feet, Jeremy accompanied his mother on a present-leaving expedition. The excitement of that! The wonderful shapes and sizes of the parcels, the mysterious streets, the door-handles and the door-bells, the glittering stars, the maidservants, the sense of the lighted house, as though you opened a box full of excitements and then hurriedly shut the lid down again. Jeremy trembled and shook, not with cold, but with exalting, completely satisfying happiness.

– Jeremy by Hugh Walpole, Chapter III, The Christmas Pantomime –
At Christmas time, Hugh Walpole had something of a ritual. Most years the festive season was spent visiting his sister Dorothea in Edinburgh, where he would always start the first words of a new novel and perhaps write more of any he was already working on.
On Christmas Eve 1918 he wrote the first words of his novel The Cathedral, and 12 pages of 'Maggie', a book which would finally end up being titled The Captives. Christmas Eve 1924 he wrote the first pages of 'Janet Grandison' which was later renamed Wintersmoon, Hugh's first attempt at a full-length love story.
Hugh also spent a few Christmases in America. In 1926 Hugh sailed in September to the United States for a lecture tour, and when December came around there came a welcome break in New York where he divided his time between staying with his good friends Arthur Fowler and Lauritz Melchior and their families.
That year Arthur Fowler gave Hugh a sketchbook as a gift, which Hugh subsequently went on to use to jot down some drawings in pencil, ink and watercolour. In 2020 I had the privilege of purchasing that sketchbook when the descendants of Hugh's companion Harold Cheevers auctioned off a collection of Hugh's personal items. As you can see Arthur dedicated the sketchbook to his friend.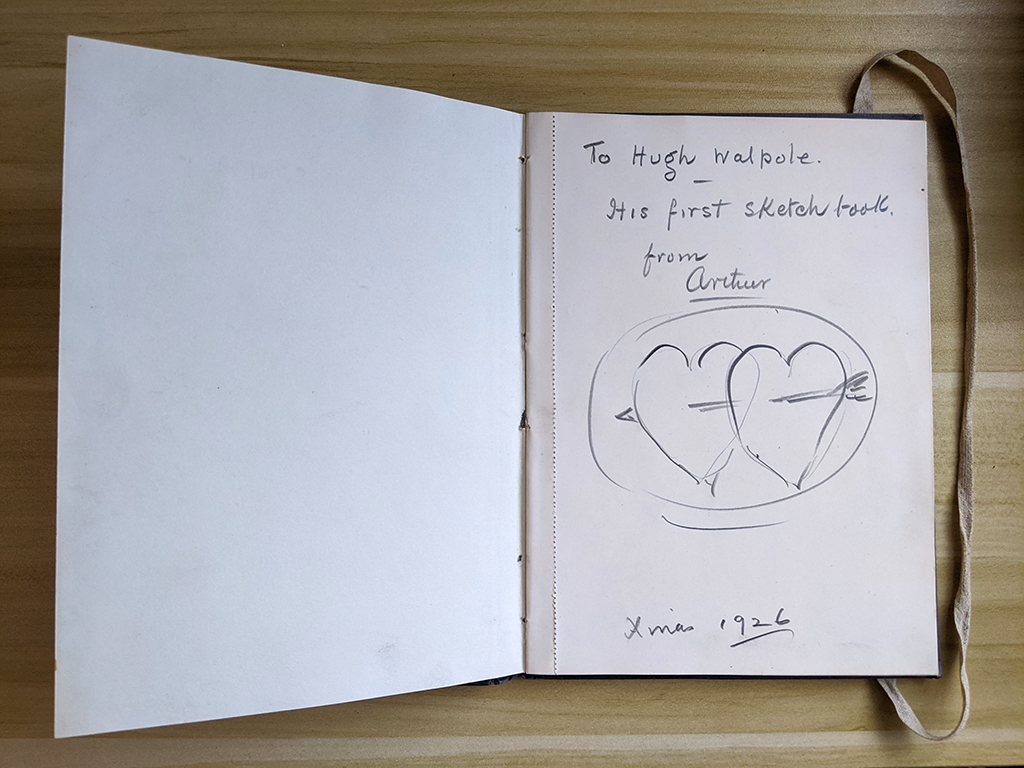 This sketchbook is a very special item in my collection as it's an extremely personal item of Hugh's which I'll be devoting a whole separate blog post to in elsewhere in this blog featuring its contents.
Christmas with the Melchiors was a great success. On Christmas Eve, everyone put on evening dress, had supper at seven, sang carols and exchanged presents.
In 1932, back in Edinburgh on Christmas Eve Hugh wrote the first words of Vanessa, part of the Herries saga and much to his sister's surprise he bought Dorothea a brand new bright red motor car, a real measure of the success he was enjoying by then.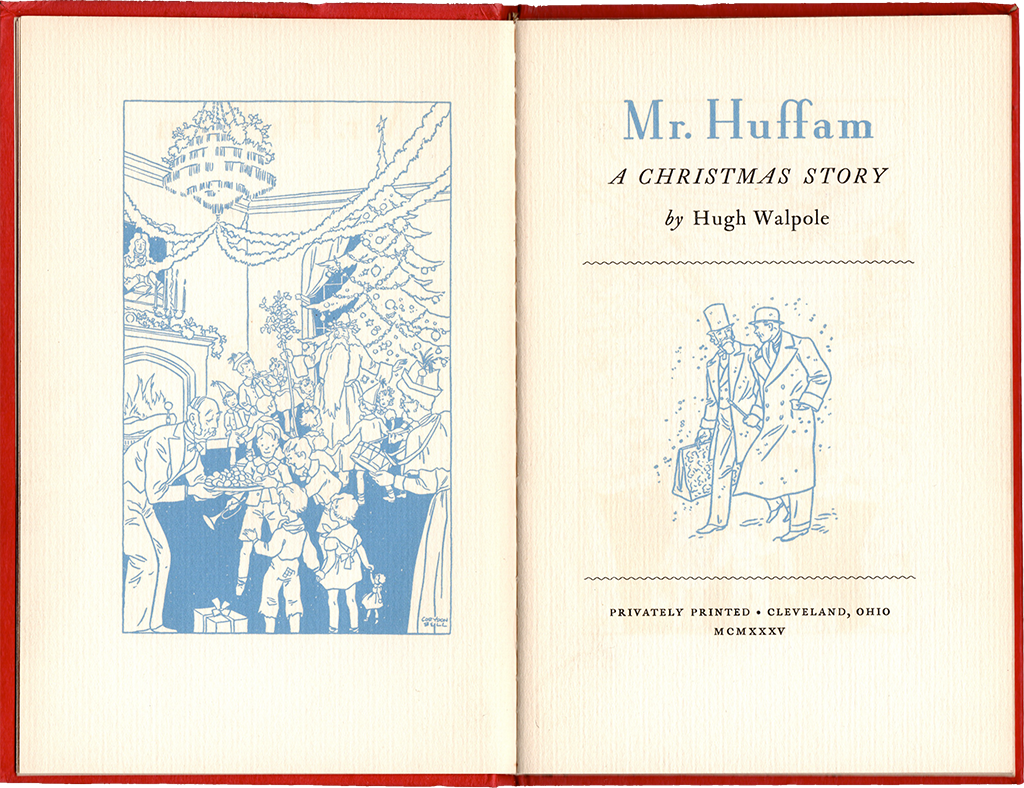 In 1933, Hugh wrote a wonderfully enchanting short story called "Mr Huffam, A Christmas Story", a superb Christmas page turner that keeps you guessing throughout who will be revealed as the real person behind the mysterious guest who seems to have come from Christmas past.
Although Mr Huffam was written in 1933, it was only privately printed in 1935 by the Roger Williams Company in a limited run of 600 for the seasons festivities and featured beautiful illustrations by Corydon Bell, a well known American writer and illustrator of children's books.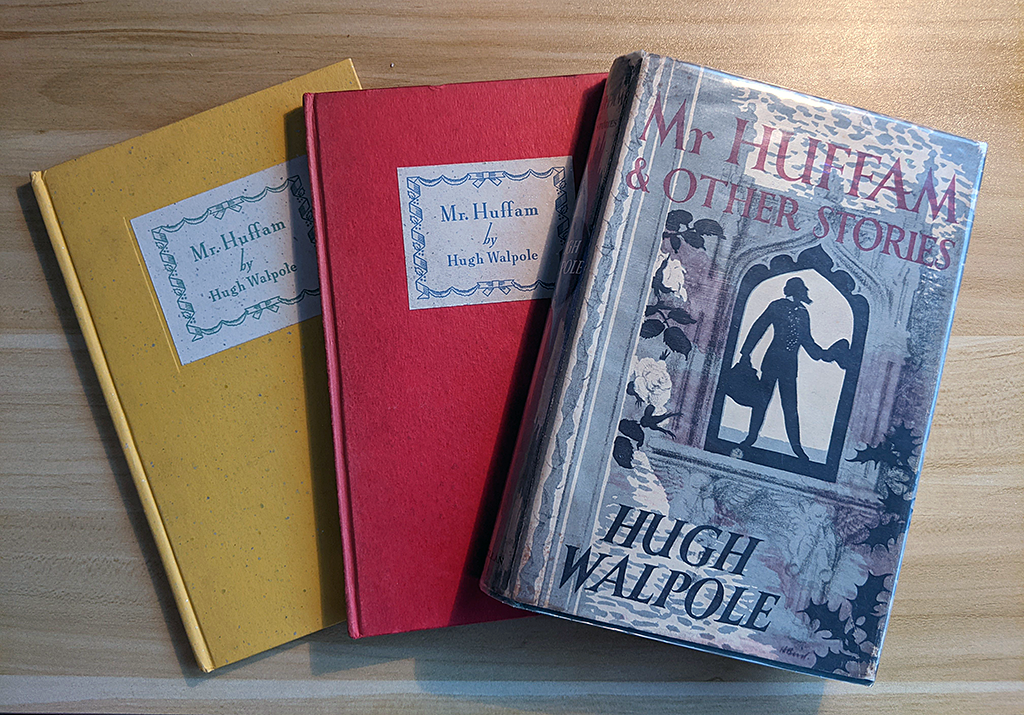 It was reissued in 1942 again in a limited number (after Hugh's death) by The Tower Press (maker of jigsaws and games) in a similar edition to the Roger Williams Company edition, though with a different colours for the illustrations as well as different colour for the cover boards. Mr Huffam also featured as the lead story in the posthumously published 1948 compilation of Hugh's short stories titled "Mr Huffam & Other Stories".
Christmas 1934 was an altogether more sorry affair. In the latter part of the year, Hugh and Harold were in America, where Hugh had been adapting the script of David Copperfield for Metro-Goldwyn-Mayer (in which he also had a bit part as a vicar). Hugh had gone for an early morning stroll and fell asleep on a bench saturated with dew which resulted in a serious attack of arthritis. He was moved to a hospital in New York then sailed back to London in late December.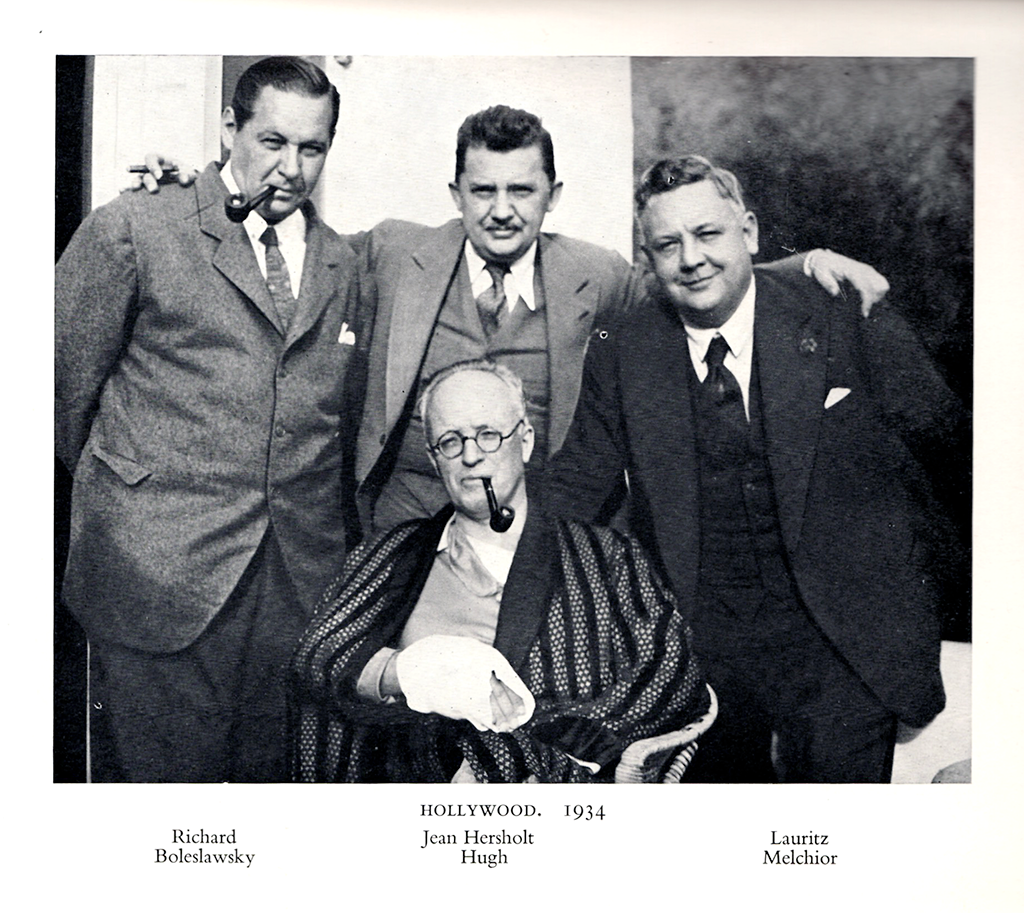 Hugh was taken by ambulance to a nursing home where he spent a miserable Christmas, even having his remaining teeth removed under anaesthetic since the specialist considered they could be a source of the infection. Harold by good fortune procured a bottle of a new medicine which had been invented by an Irish doctor, which improved his condition to the degree that he could return to his beloved Brackenburn in the lakes. This did much to help him recover.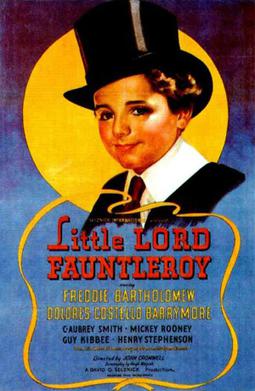 In 1935 Hugh found himself again spending Christmas in Hollywood, having worked that year on the script of Little Lord Fauntelroy for the film producer David O. Selznick. This time he enjoyed himself immensely, describing his drive down Hollywood Boulevard in the festive season as "taking his breath away". He partied with film stars of the day from lunch to the early hours of the morning and described it as 'The happiest Christmas he had ever spent away from home"
Christmas 1938 was a more quieter affair back in England where it was spent as usual in Edinburgh with his sister, with a gloomy political foreboding of the coming year dampening spirits somewhat.
Wherever Hugh found himself at Christmas though, he was ever generous and frequently gave marvellous books as Christmas presents.  In 1933 he gifted a copy of John Buchan's 'The Magic Walking Stick' to Harold Cheever's son Tom.
A very special item I have in my collection through is a hand made book by Hugh all about his home in Cumbria, Brackenburn entitled 'The Cottage and The Cow'.  He personally constructed it and gifted it to Harold at Christmas 1931 in celebration of his comradeship, as he so eloquently wrote in the inscription.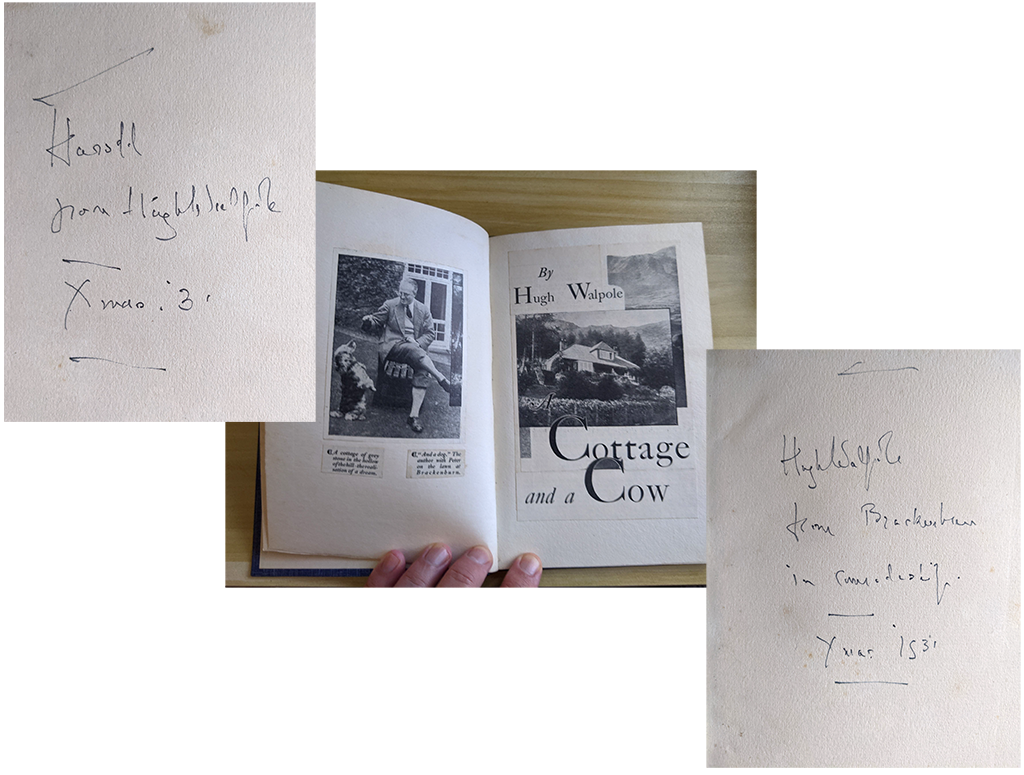 Wherever you are in the world, if you have the opportunity over this year's holiday season why not pick up one of Hugh Walpole's wonderful works and start reading. Original books and reprints are available in abundance on Ebay and Abebooks, or you can find many online in e-reader formats, or in audiobook formats from Librivox.
I hope you've enjoyed the articles I've published this year, much more will be coming on this blog in 2021 about Hugh Walpole and his work, so all that's left is to wish you and yours a very Merry Christmas, and a Happy New Year!