Update Required
To play the media you will need to either update your browser to a recent version or update your
Flash plugin
.
Portrait Of A Man With Red Hair.
Is the father insane or merely sadistic, a man entombed in a spirit of malevolence? This 1925 novel by a perceptive observer explores the territory exceptionally.
Librivox recording by David Wales

What better way to relax in the summer sunshine than with one of Hugh Walpole's page turners, and when we finally did get some great weather after a horrid spring, I took to the garden with one of his greats, Portrait Of A Man With Red Hair.
Portrait Of A Man With Red Hair is a romantic macabre, a thriller of a melodrama written in 1925 and dedicated to his good friends from America Ethel and Arthur Fowler with whom he stayed with on many occasions whilst he was on his literary tours of America.
The central character is Charles Percy Harkness, an American living in Britain. On recommendation from his friend Sir James Maradick, Harkness travels to the mystical village of Treliss in Cornwall for what is planned to be a restful break. But no sooner has Harkness settled himself into the comfy seats of the railway carriage, his favourite books upon his knee and his favourite etchings as companions tucked away in his luggage, the adventure begins.
He engages in conversation with an old bearded man on the train, likely a cornish local, who tells him that the villages of Cornwall are losing their charm by tourists and travellers like Harkness, moving around the country with ease.
Leaving the train at Trewth, Harkness decides that rather than taking the connecting train that he'd take a fair walk on to Treliss instead, sending his luggage on ahead. The main plot of the story starts here with a chance meeting on a hill as he passes a young man and an older fisherman deep in conversation, seemingly planning something important. He does well to remember these two characters as the story progresses and carries on to his hotel.
He checks into his room, unpacks  and having heard from his friend Maradick about the views from a room at the top of the hotel (with a minstrel's gallery no less) he heads on up to take in the sea views. Whilst on the minstrel's gallery, hidden from view, a couple enter the room and Harkness overhears their squabbling. The girl is clearly in distress and states her case for leaving the man and her marriage to return to her family home, but it seems that the man has some sort of hold on her and tension ensues. No sooner were they there than they are gone, and Harkness has a strange feeling of guilt for witnessing the episode.
Harkness decides to head down to the restaurant for dinner where he encounters a gentleman attempting to light his cigarette with his last match. 'Could I trouble you for a light?' asks the man with red hair to Harkness. Harkness obliges with a strike from his gold matchbox, and so the pull of the spiders web begins.
The man with red hair notes that Harkness will be dining alone and duly invites him to dine with his family. Harkness accepts and the men start to discuss a shared passion for collecting, etchings and works of art. When Harkness reaches the table to dine, he's shocked to see the couple he'd overheard earlier at the same table. They're the son and daughter in law of the Man With Red Hair, who we discover is named Crispin.
It turns out Crispin is a wealthy widower that moved into the village after his wife's death, with Crispin junior in tow looking for a potential wife, but all is not what it seems with the Crispins.
After dinner, Harkness is invited by Crispin Senior back to the house so he might see his collection of artworks, Harkness accepts, but first he is going to head out to the annual village festival and will return afterwards to fulfil the invitation. On the way out there is a chance moment where Harkness and Crispin Junior's wife are alone in the hallway, and Harkness confesses to the girl, Hesther, that he mistakenly overheard her distress in the room at the top of the hotel.
Hesther asks for his help. If he is to go into the village could he deliver a message to a man in a tavern by the name of Dunbar, 'Just tell him I accept his plan' she says in desperation. Harkness reluctantly agrees as he gets deeper into the unexpected episode.
Harkness heads of to the village and enjoys the festivities, and once the dancing and drinking are over he heads to the tavern at the agreed time where he meets a familiar looking fellow who he recognises as one of the two men he encountered from the hill when first walking into the village .
After some hesitation, Harkness and Dunbar sit and talk over a glass of whisky. Dunbar tells of his plans to elope with Hesther, but first he must release her from the dark clutches of the Crispins. A clearer picture of the Crispins emerges, with the Man With Red Hair being painted as an evil macabre man that sources pleasure from others pain and believes that if there is a god, he's there to deliver suffering in pursuit of teaching us a lesson. Dunbar tells Harkness further takes of the twisted, sick man that is the Man With Red Hair, and how he is a figure not to be meddled with.
What has Harkness got himself into he wonders?
Dunbar explains that the Crispins were outsiders who moved to the village and took on a large house built high on the sea cliff with a tangled overgrown wood behind and a large white imposing tower at the end.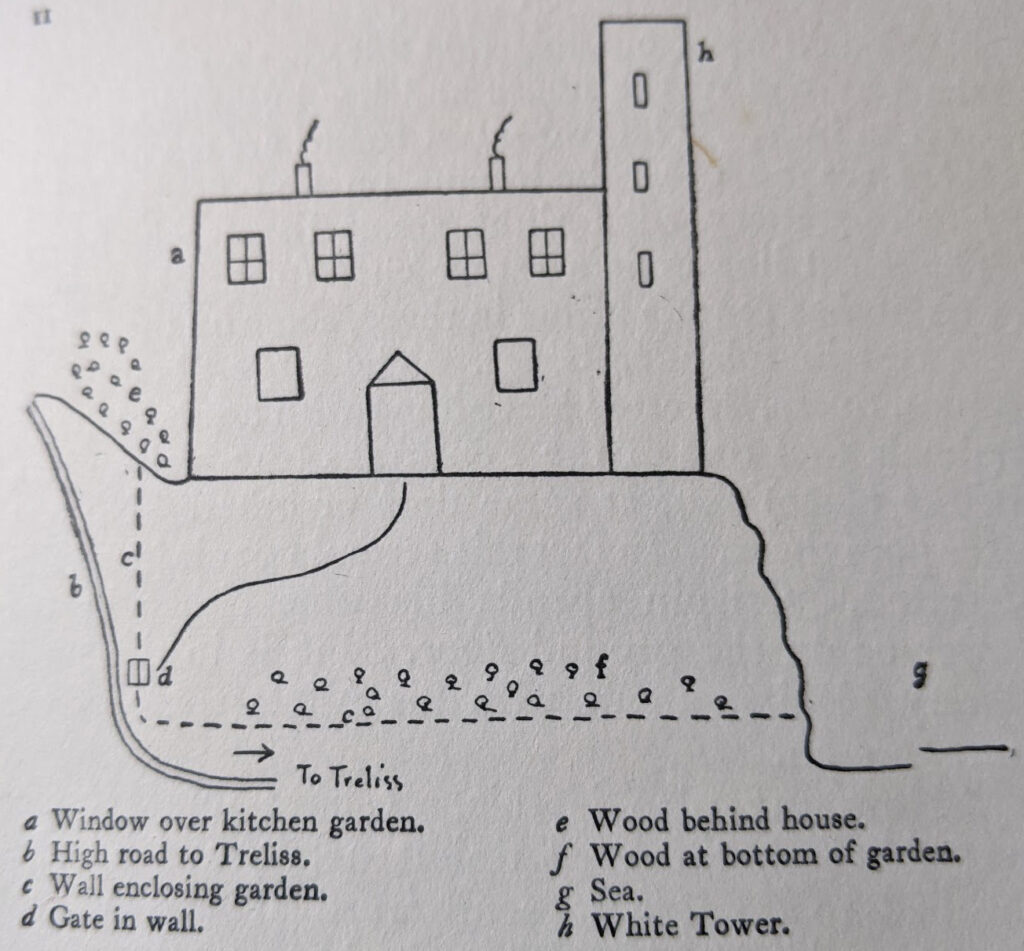 Harkness tells Dunbar how he is due to go to the house after he leaves the tavern, whereupon Dunbar asks Harkness for his help in executing his plot of springing Hesther to freedom. His role is to distract Crispin Junior at the house whilst Hesther escapes with the help of Dunbar. A plan of the house is hastily drawn out by Dunbar and Harkness reluctantly agrees. Now he's fully entangled into the drama.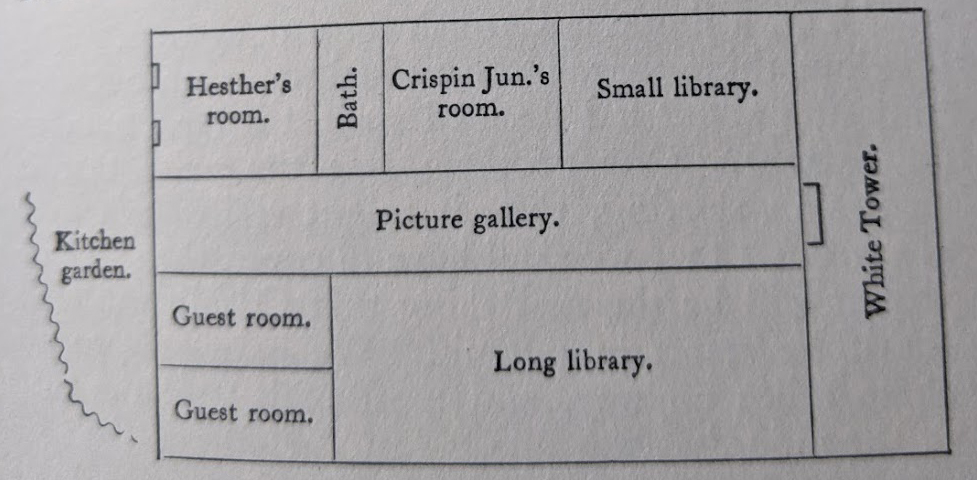 Harkness heads back to the Crispin's abode, whereupon Crispin senior offers him hospitality and a private viewing of his precious artworks. But the hospitality turns dark, and Crispin opens up to Harkness about his childhood, the bullying because of his appearance (and of course bright red shock of hair). Black clouds hang over the relentless dark conversation, clearly the man with red hair is not mentally well, and Harkness is thankful when he finally the time comes to leave.
Once out of the house Harkness invokes the plan hatched with Dunbar in the tavern earlier and returns to the house with the help of Dunbar's friend Jabez, who is also groundsman of the Crispins and a local fisherman (the second character Harkness encountered on his first walk down the hill to the village).
Whilst everyone has retired, Harkness knocks on Crispin Junior's door, it opens and Harkness tells him he's lost his golden matchbox whilst here, and could they both go downstairs to look for it. Reluctantly and irritated, Crispin Junior agrees and whilst they are both in the living room looking for the non existent matchbox, up above Hesther is making her getaway onto the pony and trap Dunbar has driven up to her window.
Harkness and Crispin give up when the clock strikes, and Harkness leaves, his work is done. But there is more to come…
Harkness meets Dunbar, jumps on the cart, and they're away to the cliffs where Dunbar and Hesther have a boat secreted to take them across the water to Truro where they'll make their getaway by early train.
Once at the cliffs an unexpected fog descends, all three are parted as they try to descend to the boat, Harkness loses his footing and alone nearly perishes as he clings on to the cliff. He makes it back up, as does Dunbar, and they decide to abandon the plan for the boat as the fog is too heavy.
Plan B is to head to the local rectory where the rector could drive them to Truro station instead, so they clamber blindly through the fog for miles arriving at what they believe is the rectory. Alas in the confusion of the fog, they've instead lost their way and made it back to the Crispin's foreboding abode.
They're met by Crispin Senior, his shock of red hair standing out from the fog, flanked either side by two large Japanese servants, clearly men not to be messed with.
Harkness, Dunbar and Hesther are bundled inside the house, whereupon they encounter Jabez, who's also been discovered as part of the plot. There's no sign of Crispin Junior…
The captives are separated and Harkness is locked in a room in the tower at the end of the house, he drifts into lucid dreams, his life flashing before him as he contemplates his fate. A few hours later he's take to the uppermost room of the tower where he encounters Dunbar and Jabez, also in a sorry state. The japanese servants gaurd the trio as Crispin Senior enters the room with a large blade, he starts to wound the men, they look around and see one single window which has no bars, it opens up to a menacing drop down into the cliffs, is there fate to end up on the rocks below?
With a dash, Jabez makes a run for Crispin Senior, a fight ensues, the two wrestle to the floor, screams and shouts emerge, blood spills from Jabez's face, and with a sharp twist Crispin Senior swings through the open window, and in slow motion the man with red hair descends with a crash to the rocks below.
In burst two policeman to rescue the trio, Crispin Junior had returned from his journey to search for the trio of 'escapees' only to find his father smashed to pieces on the rocks. With equal he madness draws a gun and shoots himself dead, toppling over his fathers body. The end to the house of Crispin and the evil power it exudes.
Portrait Of A Man With Red Hair is a gripping read, a real page turner with vivid descriptions, intense drama and intrigue. It's written over four chapters, all of which feel like the rolling acts of a theatre play.
Indeed it did make it to the stage, first opening in London's Little Theatre on February 27th 1928 and subsequently on November 8th in New York's Garrick Theatre, just three years after the books publication. In September 1942 Benn W Levy's adaptation of the book had a two month run at the Ambassadors Theatre in London.
It had been slated for a film release in the 1930s but never made to production, although in 1957 it did make it to the small screen as a 1 hour television special as part of the 'Hour Of Mystery' series.
This is Hugh Walpole's storytelling at his best, a mix of good and evil, sweet and sour, macabre and romance. If you liked his tale of Mr Perrin & Mr Traill (in the US called 'The Gods & Mr Perrin) you'll love Portrait Of A Man With Red Hair.
Take this book to read on your vacation, whether you're holidaying afar, or perhaps taking a long summer journey by train to the beauty of Cornwall, this book will capture your imagination. Though perhaps if any of your friends or your travel agency recommend a week in Treliss you might just think twice and book another destination.